Medical reports' translation from English to Arabic requires special care because medical reports are unlike other types of documents.
A single mistranslation of a medical term can have serious consequences. There are numerous examples of medical facilities that made translation errors on imported medical instructions, mistranslated, resulting in disastrous consequences for patients.
What are medical reports?
Reports are used in all kinds of industries by all kinds of organizations. Hospitals and other medical institutions are no exception. Rather than dealing with reports like sales reports and the like, they are in charge of creating medical reports.
Get our medical translation services now
What are the typical components of a medical report?
Aside from the patient's personal information, these reports contain a variety of other types of information.
Possible allergies, vaccinations, current medical evaluation, health issues, family or personal medical history, treatment, and other information would be included.
There is one thing that is certain in a medical report: medical terms and terminologies abound!
Get our medical reports translation now
What are the various types of medical reports?
Children's medical report
Medical Examination report
Medical Reports for driving license
Printable laboratory reports
Radiology reports(X-RAY reports)
RMI reports
Consultation reports
Follow-up reports
Treatment and prescription reports
Pathology reports
Just to name a few!
Get our medical terms translation now
Examples of medical reports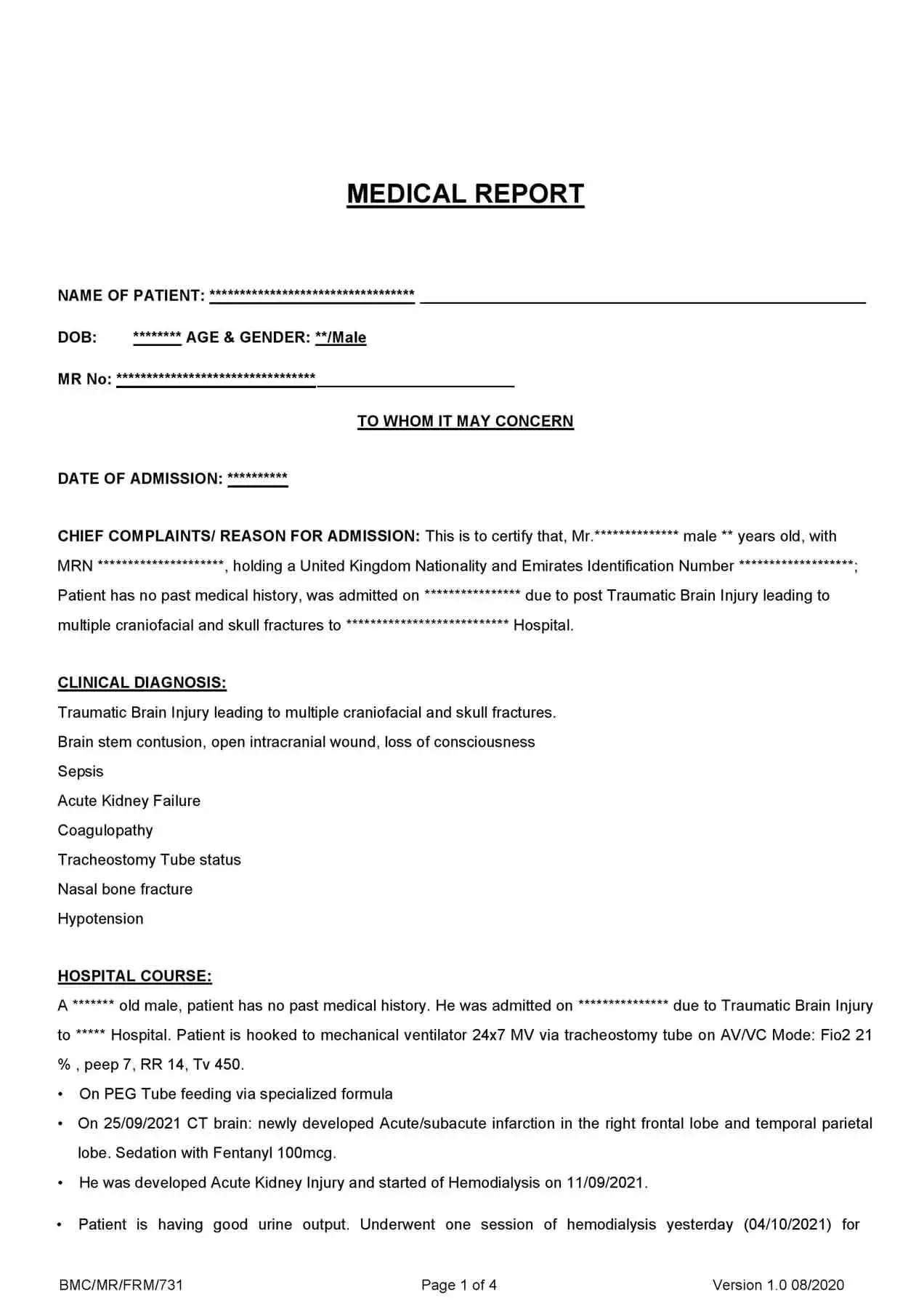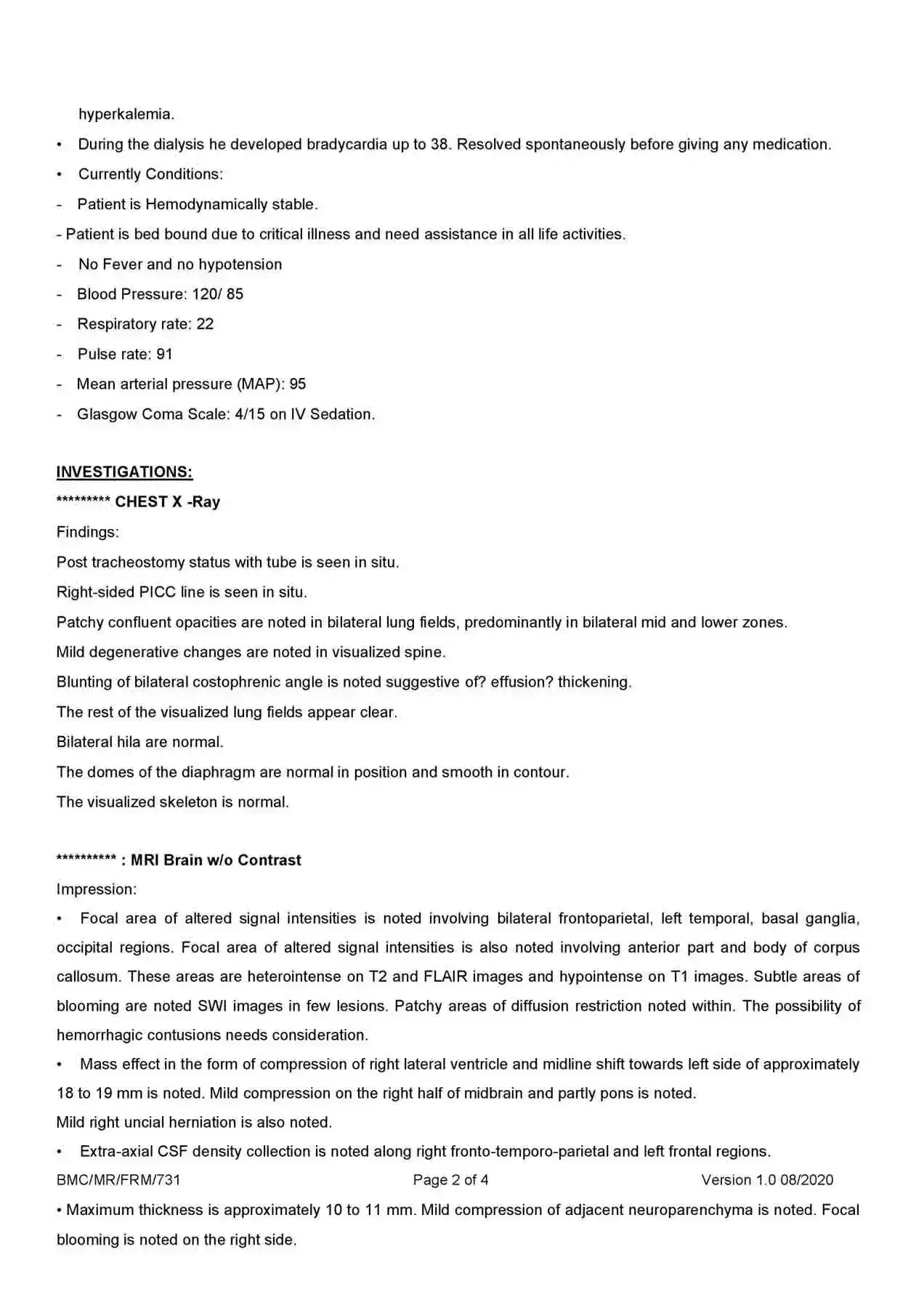 Why do you need to translate medical reports?
The world has shrunk to the size of a village as a result of globalization and low-cost travel options.
This global shrinking has opened up new doors of opportunity, particularly in the medical and healthcare sectors. For instance, people from all over the world can receive any type of medical treatment, regardless of whether it is available in their home country.
Language is now the most difficult barrier in any healthcare situation, and it is regarded as a serious threat with dire consequences.
Today more than ever, medical translation is needed within the healthcare industry; Whether doctors consult with their colleagues on important issues or matters or medical researchers want to communicate with their colleagues, many medical documents must be translated; Reports are just only one subcategory!
There are several reasons why someone would translate medical report from English to Arabic. They may require it for travel or immigration purposes. Some people require it to obtain a second opinion from a foreign doctor with more expertise, and there is nothing wrong with that!
Not only do you need to translate medical report from English to Arabic, but you need to make sure you seek a medical translation expert provider.
In any case, you will need to find the right professional medical linguists to get accurate results.
Did you carefully read the various types of medical reports? And it is only the shortlist! It is evident that in some cases, for traveling and immigration purposes, you need to get your medical reports translated.
In some cases, you will also need to translate medical reports if you stay in your country, sometimes as part of legal procedures.
Get our scientific translation services now
Why translating medical reports is critical
When people get a scan or a test, they are told to take the results to a specialist. Even the technicians who operate scanning machines and tests are unable to read the reports of the doctor.
Only a medical practitioner with the necessary knowledge can examine a scan and determine what type of disease their patient has. Medical reports, like legal documents, are quite complex and can only be understood by those with the necessary knowledge.
Anyone who is unfamiliar with medical terms and terminologies will struggle to comprehend the doctor's medical report.
Imagine you receive your treatment in an English native country. The doctor finalizes your reports and you go back to your Arabic native country.
There, another doctor gets in charge of your treatment and asks you for your medical records and reports.
Can you imagine translating your report by yourself? Even if you have strong English skills at hand. How would you communicate to your doctor the word: Borborygmi? Or here's a better one: Dimethylamidophenyldimethylpyrazolone
Complete disaster! We're talking about your health and medical condition here! Doesn't it make sense to seriously consider it?
The translation of medical reports is therefore crucial, and it can only be done with the help of medical translators and experts.
Medical Transcription: What Is It and Why Is It Important?
How to Translate Medical Reports from English to Arabic?
#1 Doing it yourself
Choosing a medical document translation provider should never be based on the quickest, easiest, or cheapest method of medical translation.

No never!
The internet offers limitless translation options… We know that! Today millions of machine translation tools are available online ready to translate medical report from English to Arabic. ALMAANY and REVERSO come in handy.
A lot of people are still skeptical thinking that they are able to get reliable linguistic assistance using these machine translation tools. Really?
We wouldn't even trust Google Translate and his machine translation brothers on a simple phrase as: "The boy ate an apple". How would we trust him with our health?
You might reply, yes but there are also medical paper references available on the internet!
YES, billions of medical books and articles are also available on the internet for reference. We know all that! Some might think that getting medical translation online is a very good idea and a money saver. After all the doctors are the ones who are publishing these articles and books.
We repeat: Translate medical report from English to Arabic should never be based on the quickest, easiest, or cheapest way!
Some people, however, have a strong medical background. To those we say, you might get away with your report translation from English to Arabic, if you are an Arabic native speaker, and you are familiar with the English language. - Even if you're familiar with the French language a lot of English and French terms are very similar.
It is risky but it's possible. It happens!
But for the ones who don't come from a medical background, we say: DO NOT TRY THIS AT HOME! No seriously, under no circumstances should you take your health for granted!
Prescribing Success: The Path to Becoming a Medical Translator
How to Translate Medical Terms from English to Arabic?
To translate medical report from English to Arabic, you should first be able to translate medical terms from English to Arabic.
For this, you will need to buy a reliable medical dictionary available in your country; You will need a monolingual dictionary to first understand the English term in its context and a bilingual dictionary to find the Arabic equivalent meaning.
You certainly need to have strong English comprehension skills as well as strong Arabic comprehension skills to be able to clearly find the meaning in the context and not just the general meaning. - Keep in mind that a general meaning leads to a mistranslation!
According to Best Reviews.guide, the top monolingual English medical dictionaries for this year are:
Mosby's Medical Dictionary
Dictionary of Medical Terms - Barrons Educational Series
Dorland's Illustrated Medical Dictionary (Dorland's Medical Dictionary)
Taber's Cyclopedic Medical Dictionary
Merriam-Webster's Medical Dictionary
Stedman's Medical Dictionary Twenty-Eighth Edition
And for the bilingual medical dictionary (English to Arabic), the UN trusts:
Make sure to buy the latest versions as the medical industry is constantly improving every year!
To translate medical terms from English to Arabic this way, you will have to spend a lot of time juggling between your report, monolingual, and bilingual.
Not to mention the price of the dictionary which could be very high, especially in Middle-Eastern Arabic countries.
It is still possible to find these dictionaries online but using them online will be such eye-straining and eye-soring!
#2 Asking for Help from your Relatives or Connections
Now to avoid all that is written in step number 1, you could just go ask for help.
Maybe your sibling or relative is studying medicine, nursing, pharmacy, or even pursuing a career as a doctor. What a chance!
They might help you translate medical terms from English to Arabic, and maybe if you're lucky enough and they have time for you, translate medical report from English to Arabic.
This could be a wise option to get all your medical translations accurately done - but most importantly done for free! However, not everybody is likely to have a doctor as a friend or partner.
Your sibling or relative may also be a medical translator! That's a joker! They will handle medical terms and terminologies and provide the correct Arabic and English equivalents.
The real question is are you seriously going to waste time preparing that contact list, reaching out to old friends, neighbors, or friends of friends, just to get a free medical translation?
What if they do it in a rush, with minimum care? How health-conscious are you? Are you willing to sacrifice accuracy? Are you that neglecting when it comes to your health? - No we don't think so.
How to become a certified medical transcriptionist
#3 Let Leaders Interfere
When it comes to medical reports, people's health is at stake, which is why even minor errors can be chaotic.
However, if you choose a reputable medical translation agency, you won't have to worry about the details. They already understand the significance of precision and will always deliver error-free, 100% accurate results.
Delivering high-quality Arabic report translation requires understanding the underlying meaning, locating the appropriate target language terms, and delivering the finished product in polished prose that adheres to the conventions of the target country's local Arabic dialect(s).
No machine translation tools, no dictionaries, and no industry-know relatives can perfectly accomplish that!
Get a quote now and let our translators bridge the gap between languages!
Translate Medical Reports at LEADERS Translation Company!
Leaders has assembled a team of experts in medical translation from English to Arabic and vice versa.
Needless to say, medical reports translation couldn't be crafted at less than perfection because it would jeopardize the health of people and society!
Thankfully, Leaders dispose of a wealth of medical translators with extensive experience in the field of medicine(whose mother tongues are both Arabic and English).
When it comes to your medical reports, they wear their doctor's coats and get ready for surgery! They are well-versed in medical concepts and know all related medical terms and terminology related to all kinds of medical reports like the back of their hand!
We, at Leaders translation factory, offer special expertise in medical translation.
Quality is our watchword! You will receive translation services that are among the most dependable on the market.
All you have to do to get a quote to translate medical reports from English to Arabic is send us your document and the necessary information. Because our mission is to provide everyone with an affordable online professional medical translation service, we offer the best medical translation rates.
Upload your medical file now and watch it seamlessly transform into any language of your choice!
---