The Basics
Subtitles are lines of text that appear at the bottom of the screen and translate spoken dialogue into another language.
Subtitles are most commonly seen in movies, but they can also be found in TV shows and other content forms such as videos and social media clips.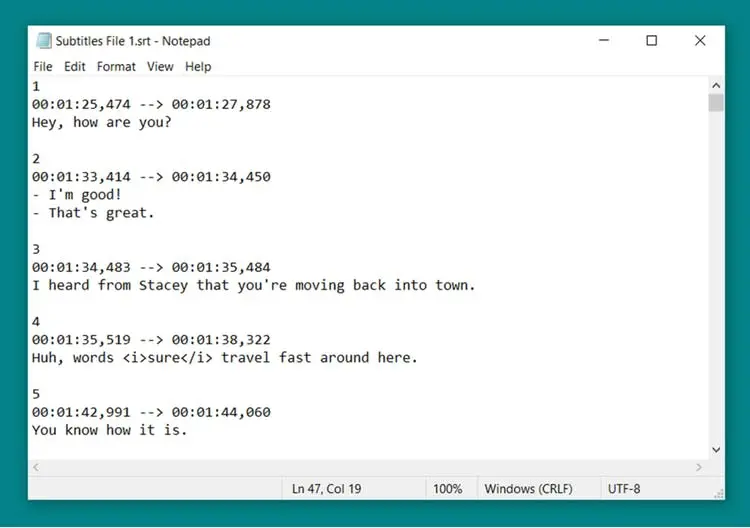 Subtitles translate a film's native language into the language of the destination audience.
Subtitles are available on multilingual streaming services such as Netflix, Apple TV, and Disney +.
Get our subtitling and captions translation now
Subtitles Formats
It is very normal to confuse the concept of subtitles. Like in what form do they come? Are they generated as texts? Videos?
Subtitles are saved separately from the video they're transcribing, as a plain text file. That's how we can toggle closed captions on and off while watching a YouTube video.
These text files can be encoded in a variety of file formats, including:
SRT (.srt)

SubViewer (.sub or .sbv)

WebVTT (.vtt)
Popular video-sharing platforms such as YouTube support this file type obviously but also platforms like Facebook.
The most common format is SRT (.srt) files, so this blog will only cover SRT (.srt) files.
Beyond Subtitles: Exploring the Various Types of Audiovisual Translation
How to translate subtitle files?
#1 Translate Subtitles Using your Notepad!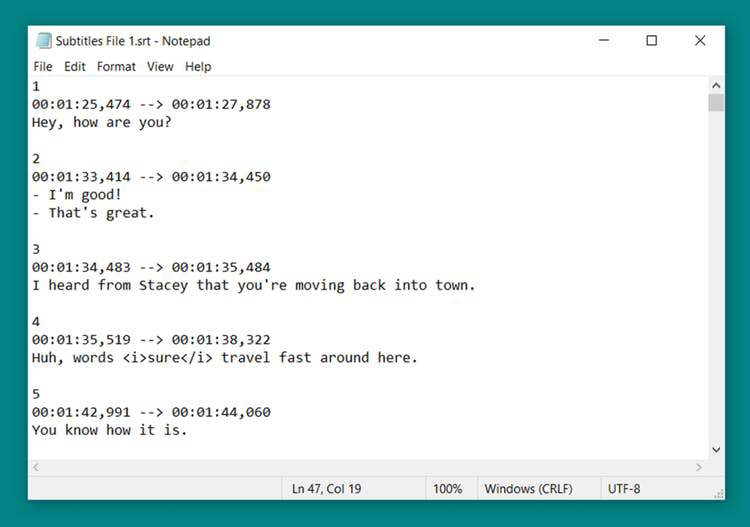 As you see, the name of your file must be "name.srt". This is what we call: Making a copy of SRT file.
This method is very efficient and quick when you need to translate subtitles for a short video or when you don't have access to the Internet and have to work offline.
If you create an SRT subtitle file and save it on your computer, you can translate it using a simple text editor such as WordPad or Notepad.
To accomplish this:
Click on your SRT subtitle file by right-clicking on it.

Choose the Open With option, and then Notepad or WordPad as an option.
It may appear to be a sophisticated code but here's how to read it quickly.
The Difference Between Subtitles and Dubbing
The subtitles are organized into sections based on their appearance time. Each section contains:
Section Number - denotes the order of subtitles (ascending order 1, 2, 3, 4, 5...)

Start and End Times - specifies when a subtitle should appear in the video (must be written as hour:minute:second,millisecond)

It is okay to skip the milliseconds!

The Subtitle that Should be Displayed on the Screen - You may have more than one row of subtitles in one sequence.

Do not forget to divide each section by a blank space.
You can redo the process in all the languages you are required to translate but not in the same file! - Be careful, every new translation demands a new file!
What About the Translation?
To ensure the most perfect and accurate translation ever, we recommend that you only translate into languages that you are familiar with. You can, however, copy and paste the entire text into Google Translate or any other online translator machine of your choice.
Then, in Notepad, extract the translated subtitles and paste them where they belong.
Take very good care of the copy and paste process and pay attention not to change the sequence numbers or timestamps during the process, as they are required to automatically sync each subtitle to the video.
Subtitling Made Simple: Tips and Techniques for Learning
Disadvantages Of This Method:
Because when using Notepad, you're editing the subtitles in their raw form. There's a high chance you'll accidentally delete or duplicate important information.
Be careful to only work on the content section.
Overall, we recommend this method only if you need to create or edit a short subtitle file for a tiny video that does not surpass 30 seconds.
Our next method for translating subtitles for all of your video content is faster, easier, and better for business and professional use.
Uncovering the Story: A Complete Guide to Interview Transcription
#2 Translate Subtitles Using an Online Tool!
Top 10 Best FREE Subtitle Editors
Clideo
Clideo is a COMPLETELY FREE ONLINE TOOL and video editing app that was recently updated with a new subtitling tool to translate video subtitles.
To begin processing a video file, you must first transfer it from cloud storage or your computer, or simply insert the link to your video to translate it.
Then, either upload your subtitle file or manually enter the text, and you'll be able to edit your captions at different timestamps.
Very easy to use for absolute beginners, Clideo comes in handy as a useful tool for quickly adding subtitles to medium-length videos, allowing you to edit videos even on your phone!
It also includes some basic video editing tools, a media converter, and other tools that every video editor requires on occasion.
Listen Up: Mastering the Best Way to Transcribe Audio
Movavi Video Editor Suite
This all-in-one subtitle editor will assist you in creating your own subtitles or merging an existing subtitle file to translate video subtitles.
Movavi Video Suite is more than a subtitle editor. This software includes all of the tools you'll need to work on a video.
Key Features of using Movavi Video Editor Suite:
All-in-one subtitle editor that features all the subtitling tools you need for professional translation subtitling editing.
Supports all popular file formats. Once you install it, no other software will be needed to handle different file formats
Fast processing, easy-to-use interface for both beginners and experts
Adaptable to many languages
Available for Windows and Mac
Free to try for 7 days / full version for $79.95
Unravel the Most Frequently Asked Questions about Closed Captioning
Redokun
SRT subtitles are one of the file formats supported by Redokun and the process of transcribing videos using this online tool is very simple - 5 easy steps!
Step 1: upload your SRT file to Redokun
Step 2: Select your target language
Step 3: Use built-in machine translators to translate your subtitles!
Step 4: If necessary, use the web editor to review and edit your machine-translated subtitles.
Step 5: When the translation is finished, download the translated SRT file and use it on your video right away!
Is there anything easier to translate video subtitles?
With Redokun, you can manage all of your subtitles in one place, just like you would do on Google Drive (they will be stored alongside your translation, ensuring the safety and security of your data!)
Unveiling the Distinctions between Revising, Editing, and Proofreading
SubtitleBee
Okay so, SubtitleBee is not a translation software, but rather an auto-subtitle tool. This resource is provided for those who may struggle to create subtitles for their video content or who do not have any SRT files, to begin with.
SubtitleBee can automatically generate subtitles that are perfectly synced to your video using speech recognition technology. The subtitles can then be downloaded as an SRT file and translated using any of the translation tools listed above.
It is indeed the most efficient tool for beginners who want to translate video subtitles.
Subtitles Translator
Using Subtitles Translator, you can translate multiple subtitle files into 80 different languages at the same time!
This free online option supports the following file formats: SubRip (.srt), WebVTT (.vtt), Spruce Subtitle File (.stl), Youtube Subtitles (.sbv), SubViewer (.sub), and Advanced Sub Station (.ass). How cool is that?
You no longer need to rely on others to translate video subtitles; instead, use Subtitles Translator to do it quickly and easily.
All you need is a subtitle file in any language supported by the tool and the rest will be handled by their built-in machine translator, which is powered by Google Translate.
Subtitles Translator will convert your video into the language of your choice.
You can also use their web editor to review and correct the translations as needed.
Know more about technical translation characteristics rates and examples
Translatesubtitles.co
Translatesubtitles.co is another free online tool that offers all of the above features.
You can use it to translate subtitles for movies, TV shows, documentaries, and other media content.
After uploading your subtitle in the following accepted subtitle formats: SRT, SUB, SBV, ASS, VTT, STL. They have a specified face where you easily drag and drop your subtitle file to translate video subtitles.
You will then select your desired language(target language) for your subtitle translations, and when completed, you will be able to edit your subtitle and download it once finished.
Subtitle Edit
This is a free and open-source video subtitle editor to translate video subtitles where subtitles can be created, edited, adjusted, synchronized, and translated.
Subtitle Edit allows users to easily adjust subtitles in a variety of ways allowing you to split and merge subtitles, and convert SRT files to other hundreds of subtitle formats.
Subtitle Edit may, however, be all crammed into a clunky interface that may take some time to figure out, but it's totally worth it because the tool is extremely powerful and completely free!
Because the software relies on Windows Media Player to function, it is only compatible with Microsoft Windows operating systems.
Get our media translation now
Subtitle Workshop
Another free open source on this list is Subtitle Workshop. The interface may seem a little bit old school but it will definitely help you translate video subtitles quickly and easily.
Its text manipulation tools are fully customizable, allowing you to design an interface that allows you to work in the most convenient workflow for you - and most importantly in many languages!
Subtitle Workshop supports more than 60 subtitle formats. It helps you fix text errors, set durations, adjust timings, adjust lines, check to spell, set shortcuts, translation mode, and automate frame rate changes. These are in fact the key features of this tool!
It provides a comprehensive set of automatic and manual tools for detecting, marking, and correcting timing and text errors. Subtitle Workshop can be a little difficult for beginners, and only works on Windows!
Get our localization services now
Open Subtitle Editor
We love this Open Subtitle Editor free online translation tool to translate video subtitles.
This open-source subtitle software allows you to create subs from scratch, add subs to your videos, edit them, translate them to other languages, and sync them. Essentially, it contains all of the tools you might require when working with subtitles.
The software uses .NET Framework. If you want to use it, you must first download it. Open Subtitle Editor also provides a service to remove subtitles! Open Subtitle Editor has a user-friendly interface compatible with beginners' needs and is constantly being updated with new features!
However, because the software relies on Windows Media Player to function, it is only compatible with Microsoft Windows operating systems.
Get our editing and proofreading services now
CheckSub
Lastly, we suggest using Checksub online subtitling tool for your video subtitling.
Checksub is a web-based application that generates and translates subtitles automatically. It transcribes all types of video projects and syncs your speech and text using machine-learning technology.
You only need to proofread the result on a dedicated subtitle editor. You can burn subtitles into your video and customize their style. Checksub also supports a wide range of text and video formats (SRT, VTT, TXT, MP4.)
Get our creative writing services now
Key Features of using Checksub:
Free plan, pro plans start from $24
Automatic transcription
+128 supported languages
Intelligent timestamp synchronization
Beginner-friendly subtitle editor
Offers the quickest ways to create subtitles
It is compatible with all operating systems.
Leaders Company provides all kinds of subtitling services for videos in all fields including Audiovisual translation subtitling, Video Subtitling Captions translation, Transcription, Synching, Integrating, subtitles translation & idioms, and much more!
The process at Leaders Translatio Factory is everything but complicated:
They receive your video and review it. Depending on the languages you want your video to be translated to, they assign it to the professional subtitler who has all the experience in the related field.
Their subtitler starts crafting. Then they make sure that the content is well-proofread at exact timestamps.
They deliver your project on time in video or other file formats of your preference, and they remain available to answer all your questions.
Beyond Spelling Errors: Understanding Editing vs. Copy Editing
WHY LEADERS?
What makes their Subtitling services different is them meeting the deadlines, and professionally translating into all the languages in the world.
They provide fast transcriptions of high quality at fair prices. And can ask them for a quote whenever you want as their 24/7 customer service is what they crow about the most.
Leaders' customers are always satisfied with the end results, and they have written really flattering reviews about them.
Get a quote now and let our translators bridge the gap between languages!
Summary
To recap, you dispose of THREE ways you can translate video subtitles in SRT file format:
You can use Notepad or another Wordpad processor on your local device and copy-paste translations from Google Translate
You can use an online subtitle translation too
You can easily contact Leaders Translation Factory
In most cases, we recommend that you avoid using Notepad and other free online subtitling tools if your business deals with a lot of video content that requires enormous subtitles. Why?
You may want to save and organize your video subtitle translations so that you find them easily in the future.
You may also want to send these files for collaborators to edit or proofread them- And it is not very evident that way!
Leaders Translation Factory takes care of your Video Translation Subtitles in all the extension formats that your business may require.
And the best is that they provide fast, accurate professional translation so you don't have to worry about your subtitles.
Upload your file now and watch it seamlessly transform into any language of your choice!